About the programme
Michael Mosley and James Wong present a celebration of the physics, chemistry and biology that lies hidden inside every bite. Together they travel the world and take over the UK's leading food lab as they deconstruct our favourite meals, taking us inside the food, right down to the molecular level.
In the first episode, "We Are What We Eat," Michael and James explore how the chemicals in our food feed and build our bodies. The world is full of different cuisines and thousands of different meals. Yet when they're reduced to their essence, there are actually just a handful of ingredients that our bodies absolutely need from our food to survive.
In the second episode, "A Matter of Taste," Michael and James explore how the marriage between chemistry and biology is the root of all the sensations, tastes and flavours that we enjoy in our food. Michael begins by deconstructing a Thai meal. Its effect on the tongue can be reduced down to just five tastes: sweet, sour, salty, bitter and the less well-known umami.
In the final episode, Michael and James explore the effect of "Food on the Brain." The brain is one of the greediest organs in the body in terms of the energy it needs to run. The way it influences our diet is, in the main, by generating the cravings we all experience.
Find out more about this series on the BBC programme page.
Discover the range of qualifications and modules from the OU related to this programme: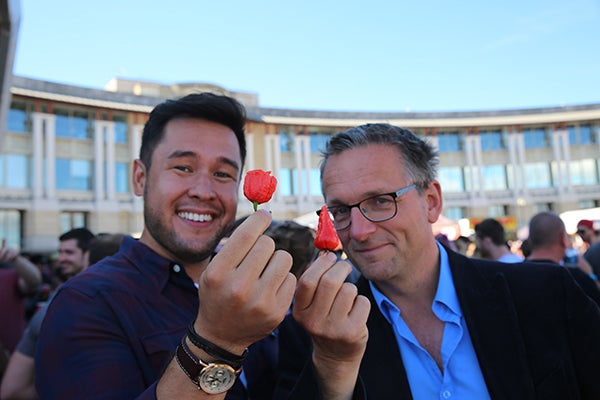 Copyright: Martha Swales BBC
Behind the scenes of 'The Secrets of Your Food' with James Wong
James talks to us about his experience working on the programme, extreme temperatures in Peru and why rice is so important in the Philippines.
How did you feel about working on this BBC/OU co-production?
How important did you find rice is to people in the Philippines, when you filmed there?
What was your most interesting experience while shooting this series?
What does science education mean to you?