Europeans showed their disgruntlement with traditional party politics in 2019, swinging heavily towards 'populist' alternatives in European Parliament elections . Populist groups have also been gaining ground in national parliaments , often only a few years after launch.
Main populist parties in the EU, at the end of 2019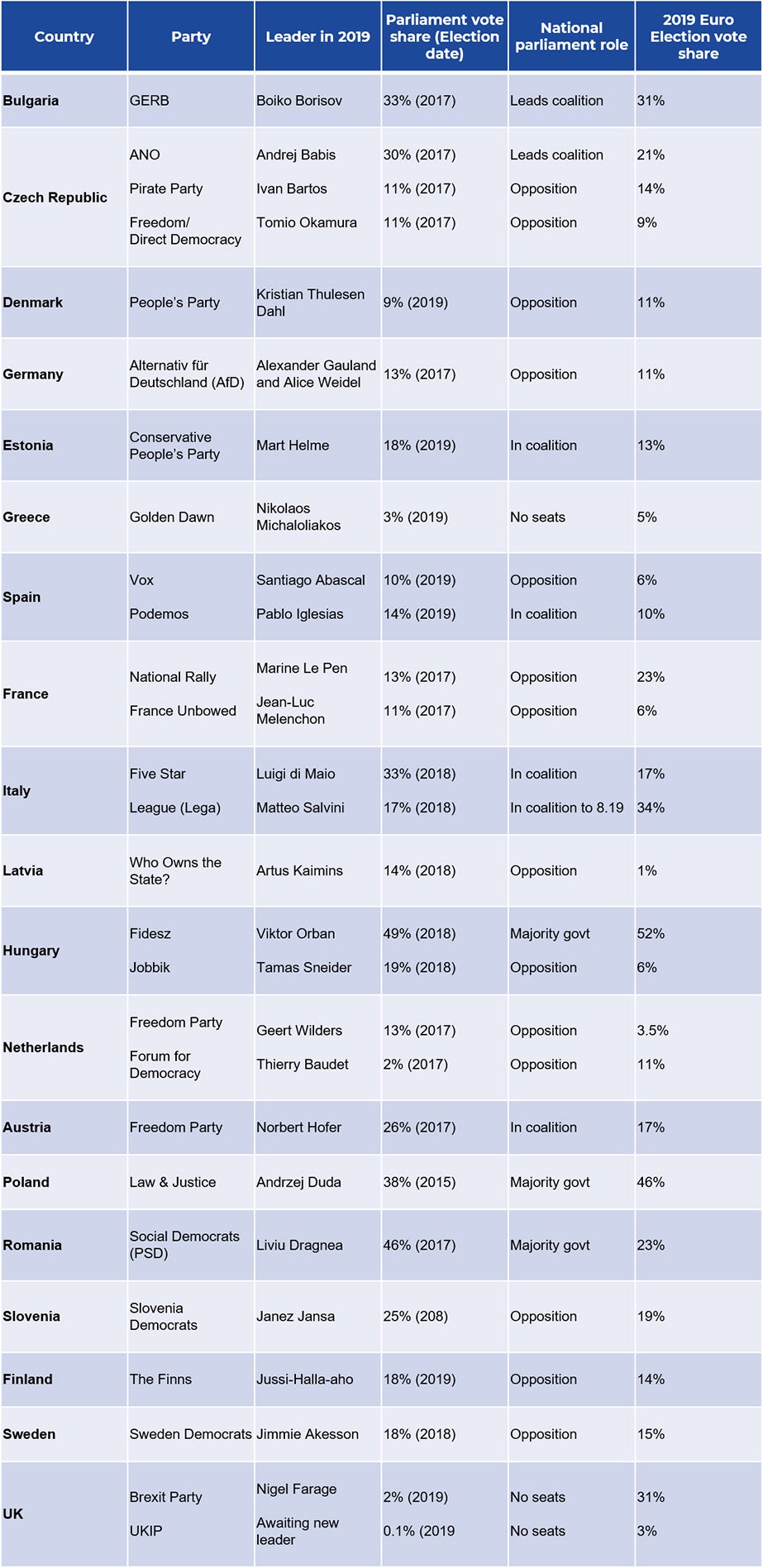 Sources: European Parliament and national election commissions .
 
A strong emphasis on job, family values and patriotism put Poland's Law and Justice (PiS) party on course for re-election in October 2019. Power in Italy has swung to the Five Star Movement (M5S) and more recently to its former coalition partner the League, whose leader Matteo Salvini pulled out in August 2019 hoping to force an early election which opinion polls suggest he could now win. Some traditional ruling parties, such as Romania's Social Democrats, have turned increasingly populist to preserve support.
Elsewhere, mainstream parties have beaten off the challenge only by forming uncomfortable coalitions among themselves, or by adopting some of the populists' demands especially on slowing-down economic adjustment and restraining immigration. This has allowed the National Rally in France, Alternativ für Deutschland (AfD) in Germany, rival Dutch populists Geert Wilders and Thierry Baudet, the UK's Brexit Party and new conservative-nationalist groups in Scandinavia and Eastern Europe to reshape the national agenda even when still in opposition.
While some populist parties (such as the Danish People's Party, Greece's Golden Dawn, Croatia's Human Shield and Romania's once-mainstream Social Democrats) have recently fallen away in the polls, others are still on the rise, looking to be kingmakers or coalition partners after their next election. Populists gained more than a quarter of votes cast nationally in Europe in 2018 .